Greeting everyone! Consider this as a postcard greeting and sharing of precious moments. The longest days of the year are here. Peak of light in summer solstice. I'm grateful for the places and moments shared with my daughter on this road trip.
Florens and I were in Norway on a road trip and we were lucky with the weather. It didn't rain much and from time to time clear blue skies and sunshine broke through.
I intended to do this trip by myself, to do some summit hikes and just to get the time for oneself every man needs once a year at least. But after have been quite active outdoors with her I wanted her to come a long and experience it too. I didn't need to ask, she already wanted to come along. So we drove up north.
We did a road trip in Norway just before her first birthday six years ago, but now she's able to run, hike and sit in the car for hours. Being a friendly companion. The last part is interesting, when both sisters are in the car they can trigger one another for "how long do we have left" kind of sentiment and questions.
Here in Norway I used to see children up on the mountains hiking with their parents or grandparents and envisioned my self doing the same the day I could. Well those days are now. Children get familiar with what we present to them.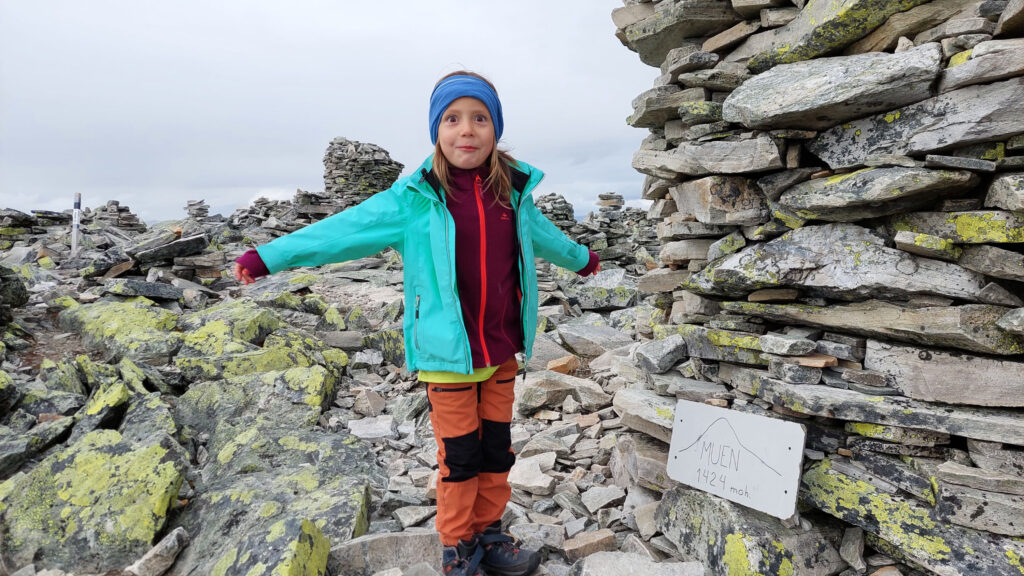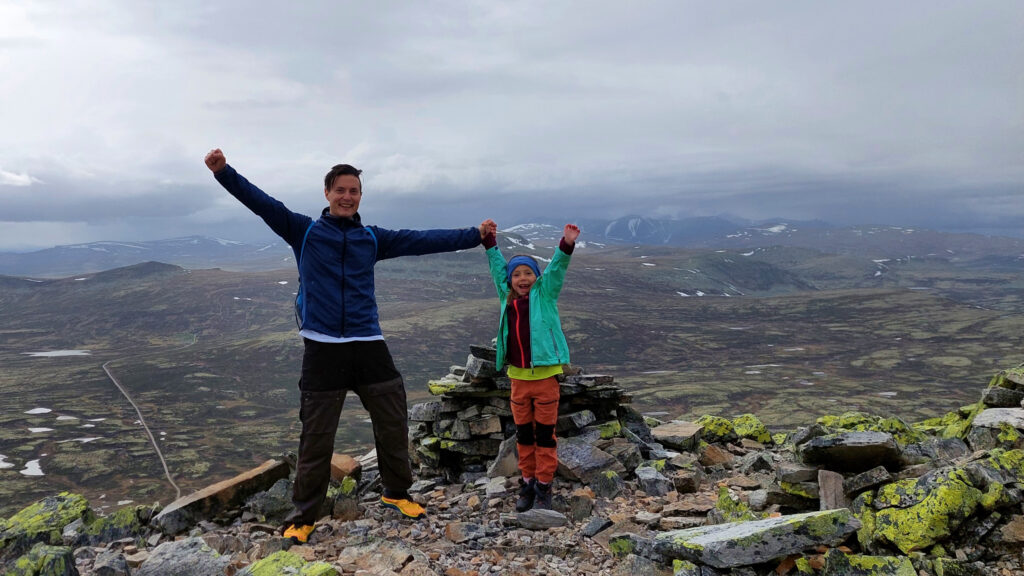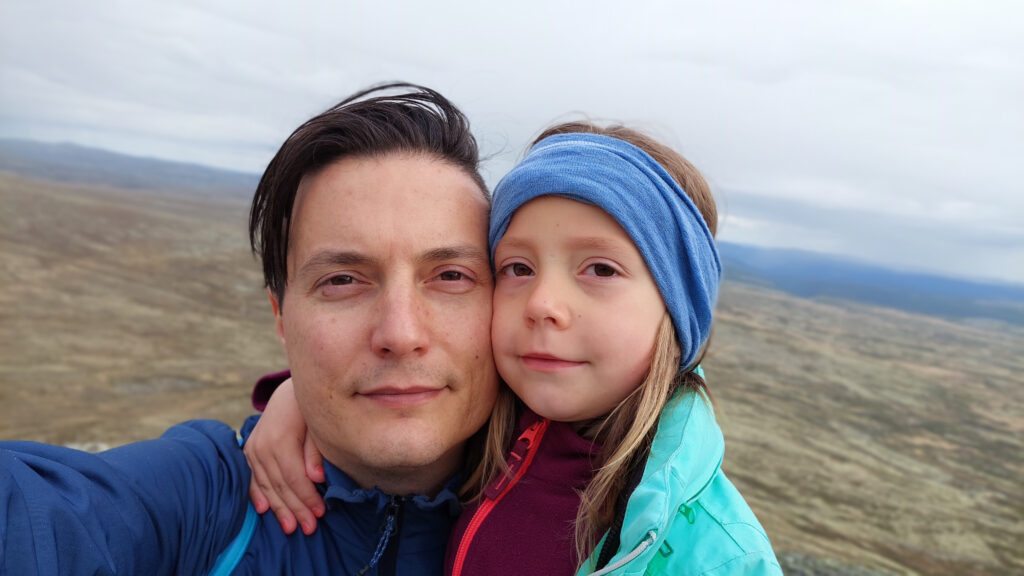 Hiking together and being on trips like these bring us closer on an intuitional level. I can offer this, nothing more or nothing less at the moment and I'd rather share this trip with my daughter.
We did two longer hikes, and I'm very proud of her. Besides hiking, we had times of casual stuff like watching butterflies, playing tennis, singing, talking and playground fun for her. There was always something to engage in, even good music to a beautiful landscape or moments of laughter or silence.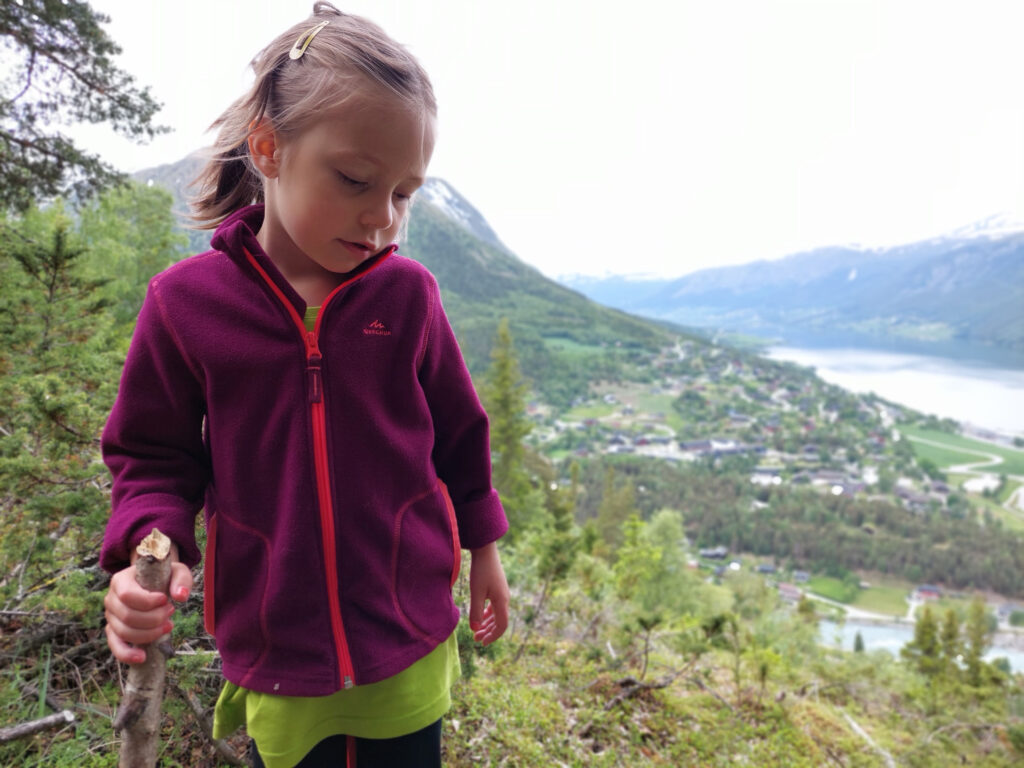 Lom in Norway is the port to Jotunheimen (home of Jötunn) where Scandinavia's tallest peaks abode. It's also a very cozy small place that has still has a medieval stave church intact. All I can say is that Lom is where your adventure in Norway really begins.
Now when this was done the youngest one also wants to see and be where big sister was. A good motivation is needed to get them both out next time wherever that might be.
For the drive back I planned a visit to a place where where there are animals and playgrounds and that sort of cozy family vibe – 'Barnas Gård' at Hunderfossen. For this occasion I actually brought along something nice for her to wear. Being the last day of the trip and such.
That was a fine last stop and we both really enjoyed the place and the surroundings. Close encounters with a peacock was a favorite first for both of us. And a sheep that got out because someone didn't close the gate properly so they all wanted out. Florens ran to get the worker who carried the sheep back while I guarded the gate. Oh, and the cars, really fun, the children liked it a lot – quite a realistic touch to the jeep and the terrain. I would love that if I was a child again.
Family Travel
Florens
Hiking
Kusletta
Lom
Muen
Norway
Road Trip
Skutlan
Stave Church
Venabu
Venabygdsfjellet