Here's an interview from the September 26th 1981 issue of a music magazine called Sounds by Sandy Robertson. There is no abundance of interviews with him so this is great! Below the photo scans is the transcribed interview. Original scans are from John Hubbard's blog enso-on-com – Florian Fricke 1981 interview (archived link to waybackmachine as the original post and site are down).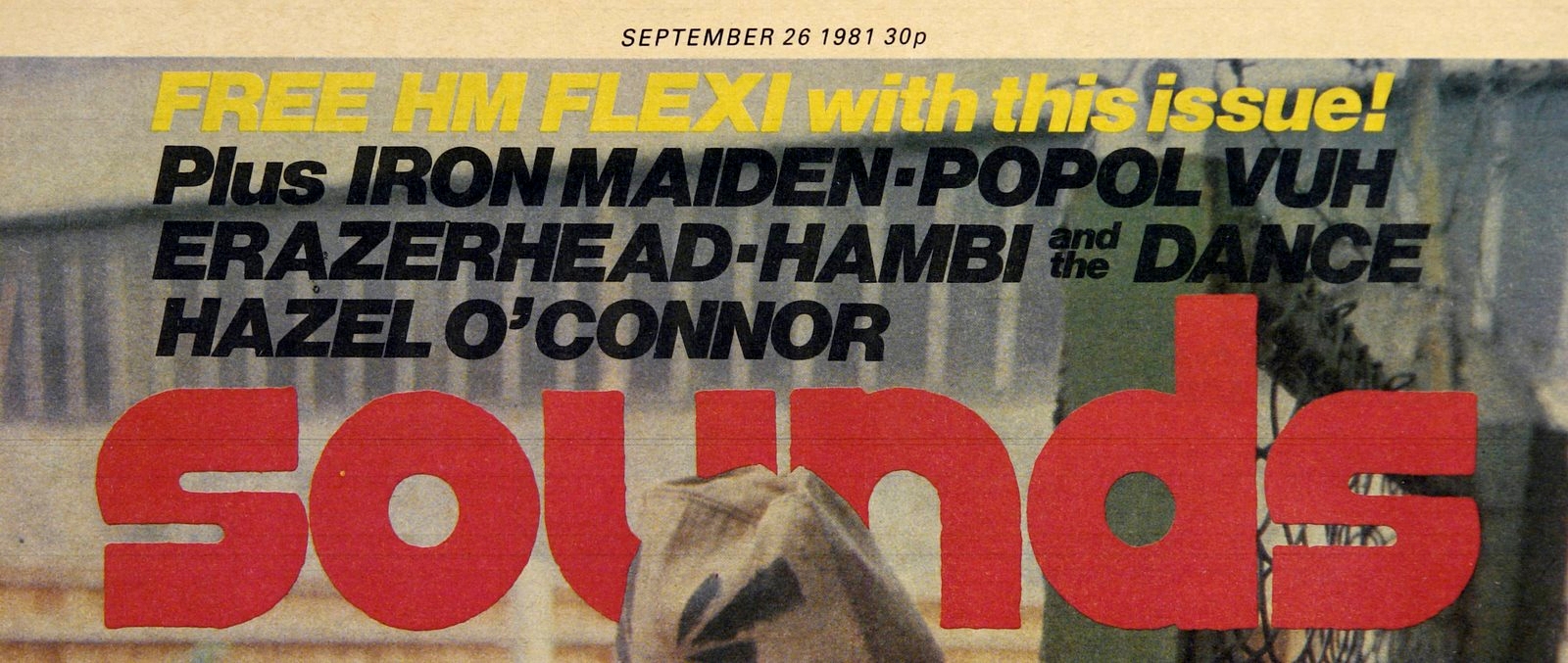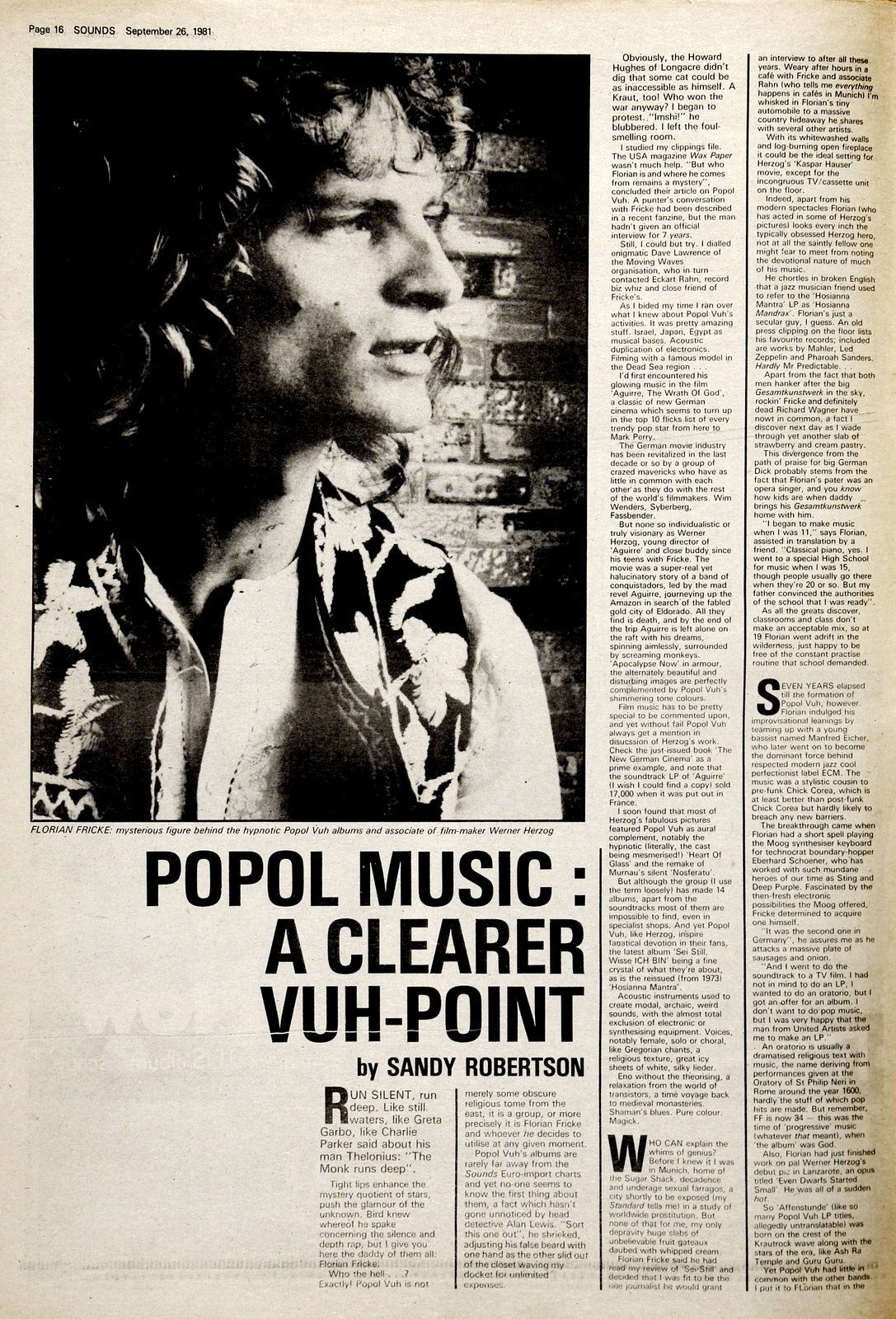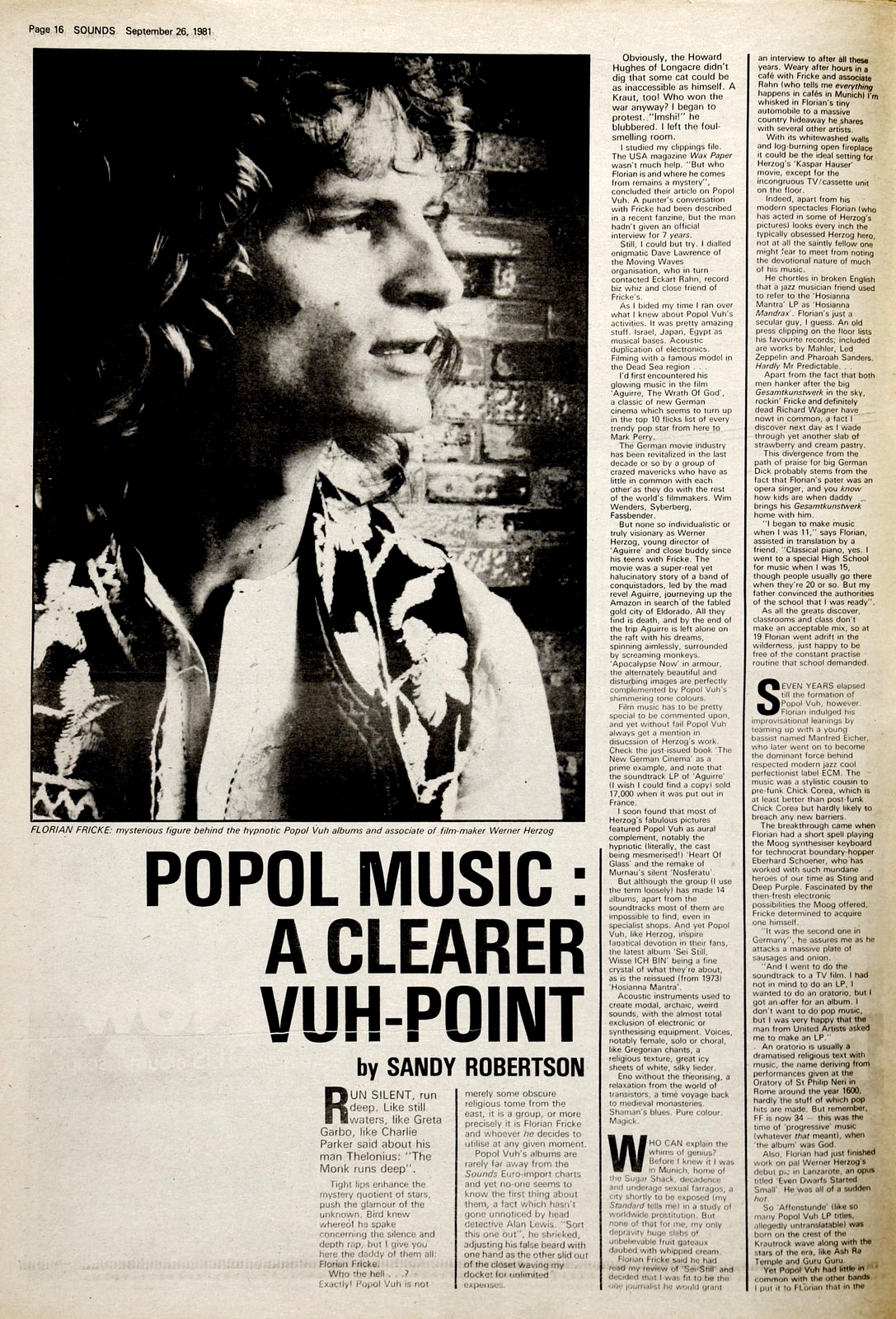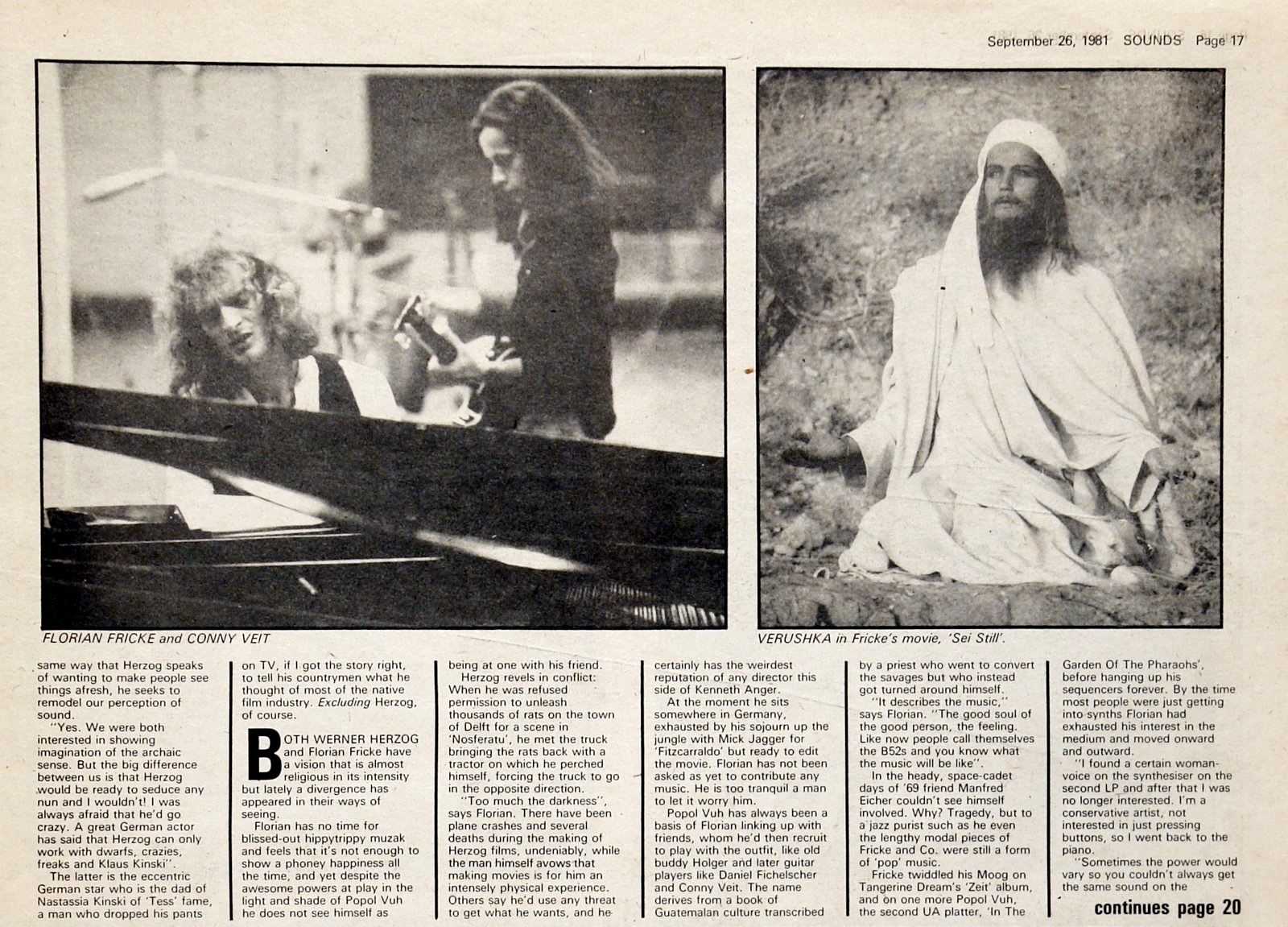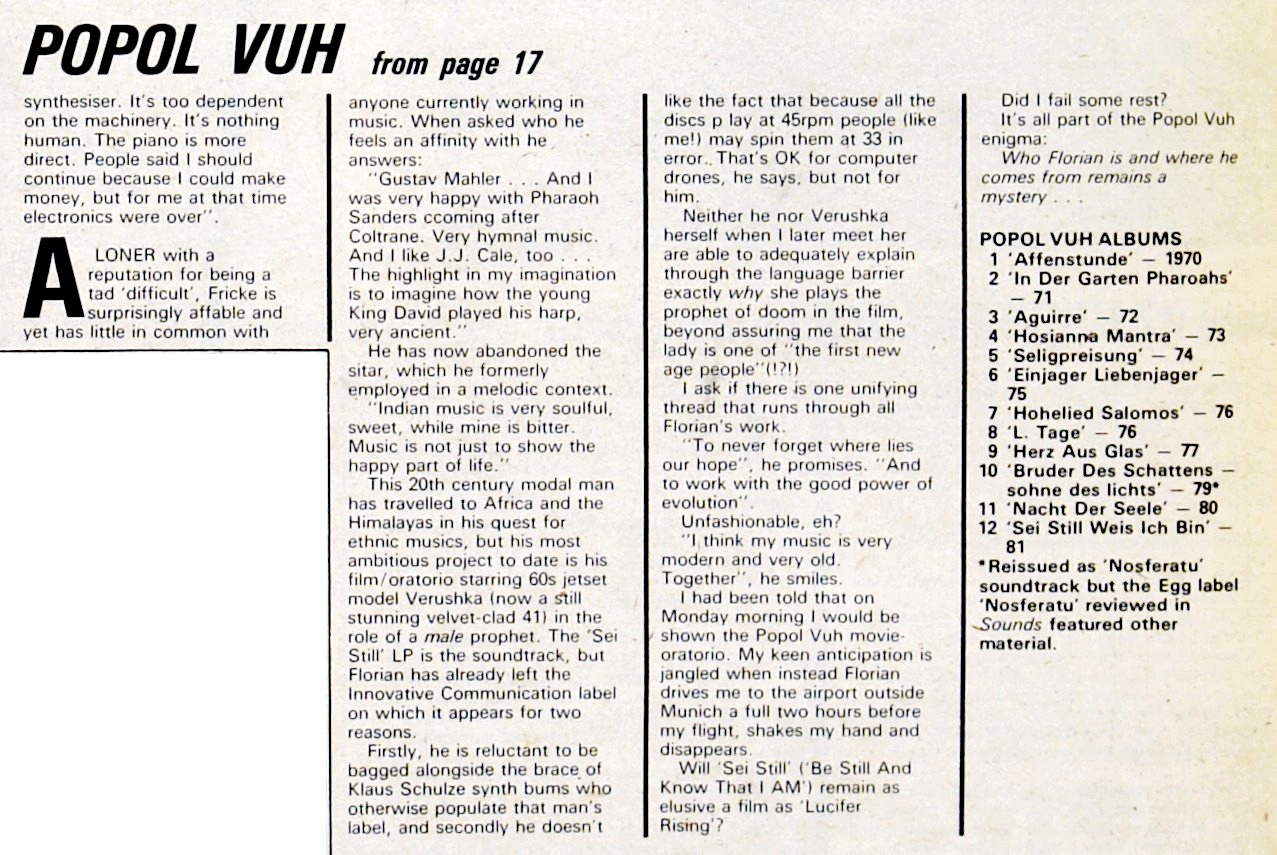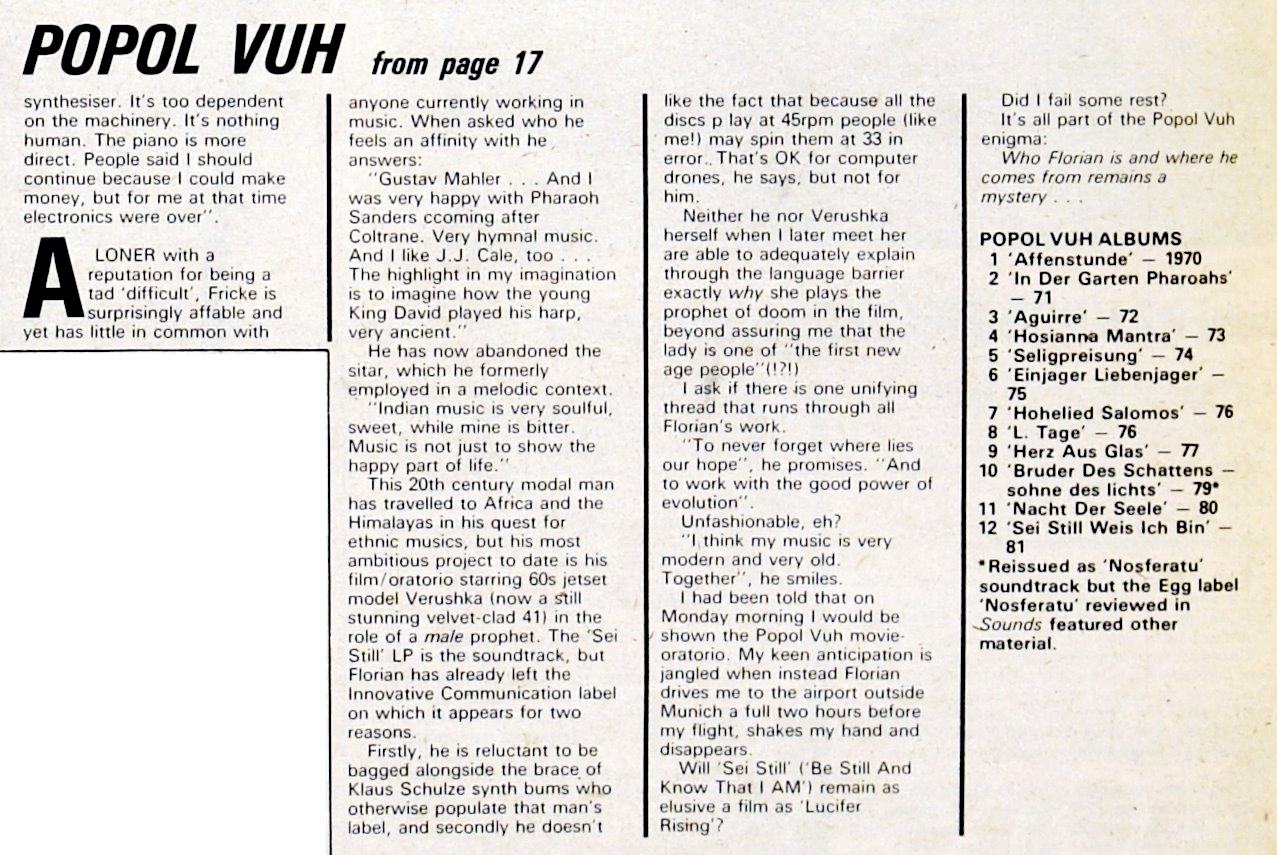 Popol Music: A Clearer Vuh-Point
by Sandy Robertson
Run Silent, run deep. Like still waters, like Greta Garbo, like Charlie Parker said about his man Thelonius: "The Monk rund deep".
Tight lips enhance mystery quotient of stars, push the glamour of the unknown. Bird knew whereof he spake concerning the silence and depth rap, but I give you here the daddy of them all: Florian Fricke.
Who the hell…?
Exactly! Popol Vuh is not merely some obscure religious tome from the east, it is a group or more precisely it is Florian Fricke and whoever he decides to utilise at any given moment.
Popol Vuh's albums are rarely far away from the Sounds Euro-import charts and yet no-one seems to know the first thing about them, a fact which hasn't gone unnoticed by head detective Alan Lewis. "Sort this one out", he shrieked, adjusting his false beard with one hand as the other slid out of the closet waving waving my docket for unlimited expenses.
Obviously, the Howard Hughes of Longacre didn't dig that some cat could be as inaccessible as himself. A Kraut, too! Who won the war anyway? I began to protest. "Imshi!" he blubbered. I left the foul smelling room.
I studied my clippings file. The USA magazine Wax Paper wasn't much help. "But who Florian is and where he comes from remains a mystery", concluded their article on Popol Vuh. A punter's conversation with Fricke had been described in a recent fanzine, but the man hadn't given an official interview for 7 years.
Sill, I could but try. I dialed enigmatic Dave Lawrence of the Moving Waves organisation, who in turn contacted Eckhart Rahn, record biz whiz and close friend of Fricke's.
As I bided my time I ran over what I knew about Popol Vuh's activities. It was pretty amazing stuff, Japan, Egypt as musical bases. Acoustic duplication of electronics. Filming with a famous model in the Dead Sea region… (my note: Veruschka von Lehndorff)
I'd first encountered his glowing music in the film 'Aguirre, The Wrath Of God', a classic of new German cinema which seems to turn up in the top 10 flicks list of every trendy pop star from here to Mark Perry.
(Read more about that special choir organ sound in this post – Popol Vuh and the Choir Organ Sound in Aguirre)
The German movie industry has been revitalized in the last decade or so by a group of crazed mavericks who have as little in common with each other' as they do with the rest of the world's filmmakers. Win Wanders, Syreberg, Fassbender.
But none so individualistic or truly visionary as Werner Herzog, young director of 'Aguirre' and close buddy since his teen with Fricke. The movie was a super-real yet hallucionary story of a band of conquistadors, led by the mad revel Aguirre, journeying up the Amazon in search of the fabled gold city of Eldorado. All they find is death, and by the end of the trip Aguirre is left alone on the raft with his dreams, spinning aimlessly, surrounded by screaming monkeys.
'Apocalypse Now' in armour, the alternately beautiful and disturbing images are perfectly complemented by Popol Vuh's shimmering tone colours.
Film music has to be pretty special to be commented upon, and yet without fail Popol Vuh always get a mention in discussion of Herzog's work. Check the just-issued book 'The New German Cinema' as a prime example, and note that the soundtrack LP of 'Aguirre' (I wish I could find a copy) sold 17 000 when it was put out in France.
I soon found that most of Herzog's fabulous pictures featured Popol Vuh as aural complement, notably the hypnotic (literally, the cast being mesmerised!) 'Heart of Glass' and the remake of Murnau's silent 'Nosferatu'.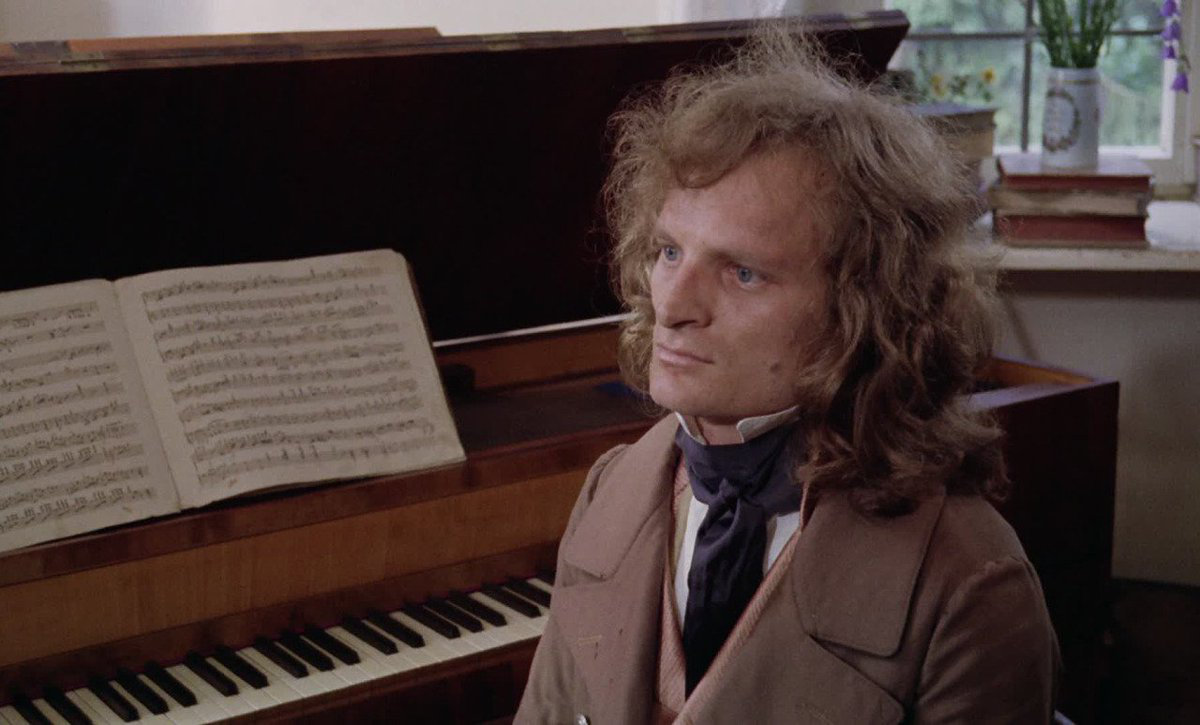 But although the group (I use the term loosely) has made 14 albums, apart from the soundtracks most of them are impossible to find, even in specialist shops. And yet Popol Vuh, like Herzog, inspire fanatical devotion in their fans, the latest album 'Sei Still, Wisse ICH BIN' being a fine crystal of what they're about, as is the reissued (from 1973) 'Hosianna Mantra'.
Acoustic instruments used to create modal, archaic, weird sounds, with the almost total exclusion of electronic or synthesising equipment. Voices, notably female, solo or choral, like Gregorian chants, a religious texture, great icy sheets of white, silky lieder.
Eno without the theorising, a relaxation form the world of transistors, a time voyage back to medieval monasteries. Shaman's blues. Pure colour. Magick.
Who can explain the whims of genius? Before I knew it I was in Munich, home of the Sugar Shack, decadence and underage sexual farragos, a city shortly to be exposed (my Standard tells me) in a study of worldwide prostitution. But none of that for me, my only depravity huge slabs of unbelievable fruit gateaux daubed with whipped cream.
Florian Fricke said he had read my review of 'Sei Still' and decided that I was fit to be the one journalist he would grant an interview to after all these years. Weary after hours in a café with Fricke and associate Rahn (who tells med everything happens in cafés in Munich) I'm whisked in Florian's tiny automobile to a massive country hideaway he shares with several other artists.
With its whitewashed walls and long-burning open fireplace it could be the ideal setting for Herzog's 'Kaspar Hauser' movie, except for the incongruous TV/cassette unit on the floor.
Indeed, apart from his modern spectacles Florian (who has acted in some of Herzog's pictures) looks every inch the typically obsessed Herzog hero, not at all the saintly fellow noting the devotional nature of much of his music.
He chortles in broken English that a jazz musician friend used to refer the 'Hosianna Mantra' LP as 'Hosianna Mandrax'. Florian's just a secular guy, I guess. An old press clipping on the floor lists his favourite records; included are works by Maher, Led Zeppelin and Pharoah Sanders. Hardly Mr Predictable…
Apart from the fact that both men hanker after the big Gesamtkunstwerk in the sky, rockin' Fricke and definitely dead Richard Wagner have nowt in common, a fact I discover next day as I wade through yet another slab of strawberry and cream pastry.
This divergence from the path of praise for big German Dick probably stems from the fact Florian's pater was an opera singer, and you you know how kids are when daddy brings Gesamtkunstwerk home with him.
"I began to make music when I was 11," says Florian, assisten in translation by a friend. "Classical piano, yes. I went to a special High School for music when I was 15, though people usually go there when they're 20 or so. But my father convinced the authorities of the school that I was ready".
As all the greats discover, classrooms and class don't make an acceptable mix, so at 19 Florian went adrift in the wilderness, just happy to be free of the constant practise routine that school demanded.
Seven years elapsed till the formation of Popol Vuh, however, Florian indulged his improvisational leanings by teaming up with a young bassist named Manfred Eicher, who later went on to become the dominant force behind respected modern jazz cool perfectionist label ECM. The music was a stylist cousin to pre-funk Chick Corea but hardly likely to breach any new barriers.
The breakthrough came when Florian had a short spell playing the Moon synthesiser keyboard for the technocrat boundary-hopper Eberhard Schoender, who has worked with such mundane heroes of our time as Sting and Deep Purple. Fascinated by the then-fresh electronic possibilities the Moog offered, fricke determined to acquire one himself.
"It was the second one in Germany", he assures me as he attacks a massive plate of sausages and onion.
"And I went to do the soundtrack to a TV film. I had not in mind to do an LP, I wanted to do an oratorio, but I got an offer for an album. I don't want to do pop music, but I was very happy that the man from United Artist asked me to make an LP".
An oratorio is usually a dramatised religious text with music, the name deriving from performances given at the Oratory of St Philip Neri in Rome around the year 1600, hardly the stuff of which pop hits are made. But remember, FF is now 34 – this was the time of 'progressive' music (whatever that meant), when 'the album' was God.
Also, Florian had just finished work on pal Werner Herzog's debut pic in Lanzarote, an opus titled 'Even Dwarfs Started Small'. He was all of a sudden hot.
So 'Affenstunde' (like so many Popol Vuh LP titles, allegedly untranslatable) was born on the crest of the Krautrock wave along with stars of the era, like Ash Ra Temple and Guru Guru.
Yet Popol Vuh had little in common with the other bands. I put it to Florian that in the same way that Herzog speaks of wanting to make people see things afresh, he seeks to remodel our perception of sound.
"Yes. We were both interested in showing imagination of the archaic sense. But the big difference between us is that Herzog would be ready to seduce any nun and I wouldn't! I was always afraid that he'd go crazy. A great German actor has said that Herzog can only work with dwarfs, crazies, freaks and Klaus Kinski".
The latter is the eccentric German star who is the dad of Nastassia Kinski of 'Tess' fame, a man who dropped his pants on TV, if I got the story right, to tell his countrymen what he thought of most of the native film industry. Excluding Herzog, of course.
Both Werner Herzog and Florian Fricke have a vision that is almost religious in its intensity but lately a divergence has appeared in their ways of seeing.
Florian has no time for blissed-out hippytrippy muzak and feels that it's not enough to show a phoney happiness all the time, and yet despite the awesome powers at play in the light and shade of Popol Vuh he does not see himself as being at one with his friend.
Herzog revels in conflict: When he was refused permission to unleash thousand of rats on the town of Delft for a scene in 'Nosferatu', he met the truck bringing the rats back with a tractor on which he perched himself, forcing the truck to go in the opposite direction.
"Too much darkness", says Florian. There have been plane crashes and several deaths during the making of Herzog films, undeniably, while the man himself avows that making movies is for him an intensely physical experience. Others say he'd use any threat to get what he wants, and he certainly has the weirdest reputation of any director this side of Kenneth Anger.
At the moment he sits somewhere in Germany, exhausted by his sojourn up the jungle with Mick Jagger for 'Fitzcarraldo' but ready to edit the movie. Florian has not been asked as yet to contribute any music. He is too tranquil a man to let it worry him.
Popol Vuh has always been a basis of Florian linking up with friends, whom he'd then recruit to play with the outfit, like old buddy Holger and later guitar players like Daniel Fichelscher and Conny Veit. The name derives from a book of Guatemalan culture transcribed by a priest who went to convert the savages but who instead got turned around himself.
"It describes the music," says Florian. "The good soul of the good person, the feeling. Like now people call themselves the B52s and you know what the music will be like".
In the heady, space-cadet days of '69 friend Manfred Eicher couldn't see himself involved. Why? Tragedy, but to a jazz purist such as he even the lenghty modal pieces of Fricke and Co. were still a form of 'pop' music.
Fricke twiddled his Moog on Tangerine Dream's 'Zeit' album, and on on more Popol Vuh, the second UA platter, 'In The Garden Of The Pharaohs', before hanging up his sequencers forever. By the time most people were just getting into synths Florian had exhausted his interest in the medium and moved onward and outward.
"I found a certain woman-voice on the synthesiser on the second LP and after that I was no longer interested. I'm a conservative artist, not interesting in just pressing buttons, so I went back to the piano.
"Sometimes the power would vary so you couldn't always get the same sound on the synthesiser. It's too dependent on the machinery. It's nothing human. The piano is more direct. People said I should continue because I could make money, but for me at that time electronics were over!.
A loner with a reputation for being a tad 'difficult', Fricke is surprisingly affable and yet has little in common with anyone currently working in music. When asked who he feels an affinity with he answers:
"Gustav Mahler… And I was very happy with Pharaoh Sanders coming after Coltrane. Very hymnal music. And I like J.J. Cale, too… The highlight in my imagination is to imagine how the young King David played his harp, very ancient."
He has now abandoned the sitar, which he formerly employed in a melodic context.
"Indian music is very soulful, sweet, while mine is bitter. Music is not just to show the happy part of life."
This 20th century modal man has travelled to Africa and the Himalayas in his quest for ethnic musics, but his most ambitious project to date is his film/oratorio starring 60s jetset model Verushka (now still a stunning velvet-clad 41) in the role of a male prophet. The 'Sei Still' LP is the soundtrack, but Florian has already left the Innovative Communication label on which it appears for two reasons.
Firstly, he is reluctant to be bagged alongside the brace of Klaus Schulze synth bums who otherwise populate that man's label, and secondly he doesn't like the fact that because all the discs play at 45rpm people (like me!) may spin them at 33 in error. That's OK for computer drones, he says, but not for him.
Neither he nor Veruschka herself when I later meet her are able to adequately explain through the language barrier exactly why she plays the prophet of doom in the film, beyond assuring me that the lady is one of "the first new age people" (!?!)
I ask if there is one unifying thread that runs through all Florian's work.
"To never forget where lies our hope", he promises. "And to work with the good power of evolution".
unfashionable, eh?
"I think my music is very modern and very old. Together", he smiles.
I had been told that on Monday morning I would be shown the Popol Vuh movie-oratorio. My keen anticipation is jangled when instead Florian drives me to the airport for outside Munich a full two hours before my flight, shakes my hand and disappears.
Will 'Sei Still' ('Be Still And Know That I AM') remain as elusive a film as 'Lucifer Rising'?
Did I fail some rest? It's all part of the Popol Vuh enigma: Who Florian is and where he comes from remains a mystery…
Aguirre
Choir Organ
Electronic Music
Florian Fricke
Interview
Kosmische
Krautrock
Popol Vuh
Sandy Robertson