In Berlin I met an old friend who works as an illustrator, a visual artist. Her name is Anita Šarkezi and the funny thing was that she had released a children's book called Mr Peculiar, together with the writer Tamara Forge. It's one of those visually perfect and fantasy triggering little books with rhymes about paranoid thoughts possibilities of interaction anyway. Since I'll be a father in the summer this became the first book for our daughter. I have the honor of introducing Anita in this interview and also show some of her work.
What's your artistic background? I've heard you are art-teacher who's left the academy to pursuit your own work?
I was always creating, since I was a child, you could find me drawing some character from Disney or just messing my format with water colors. My love towards »making images«, inventing new worlds was growing even stronger with my age, so I finally went to college where I studied Art Pedagogy where I wanted to acquire some theoretical background, develop my skills, technic and of course some mentorship. It was not completely what I expected and I was somehow disappointed with the program, but I did learn something important in the end – that is – if you want to make something, make it, because nobody else will do it instead of you or force you to do it.
In the end I graduated from Art Pedagogy and then left the academic environment physically, because I was simply interested in other kind of knowledge. Considering I felt like I did not gain enough of contemplated knowledge and experiences in those four years of studying of becoming an artist I decided to move to Berlin and see what is going on the world of art in person. I was constantly asking myself – how can you be an art teacher, without being an artist?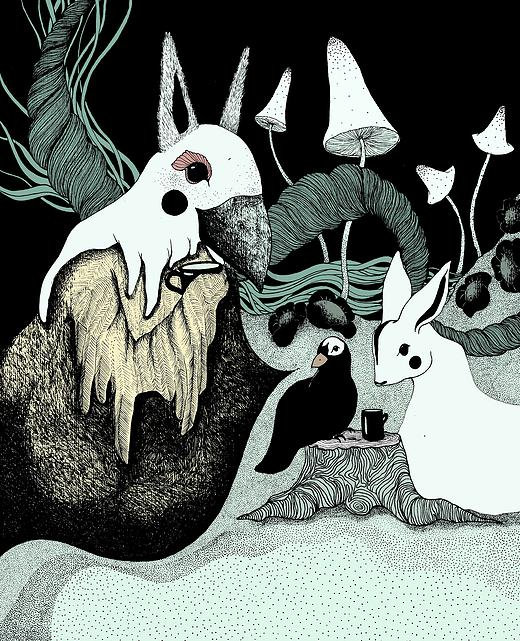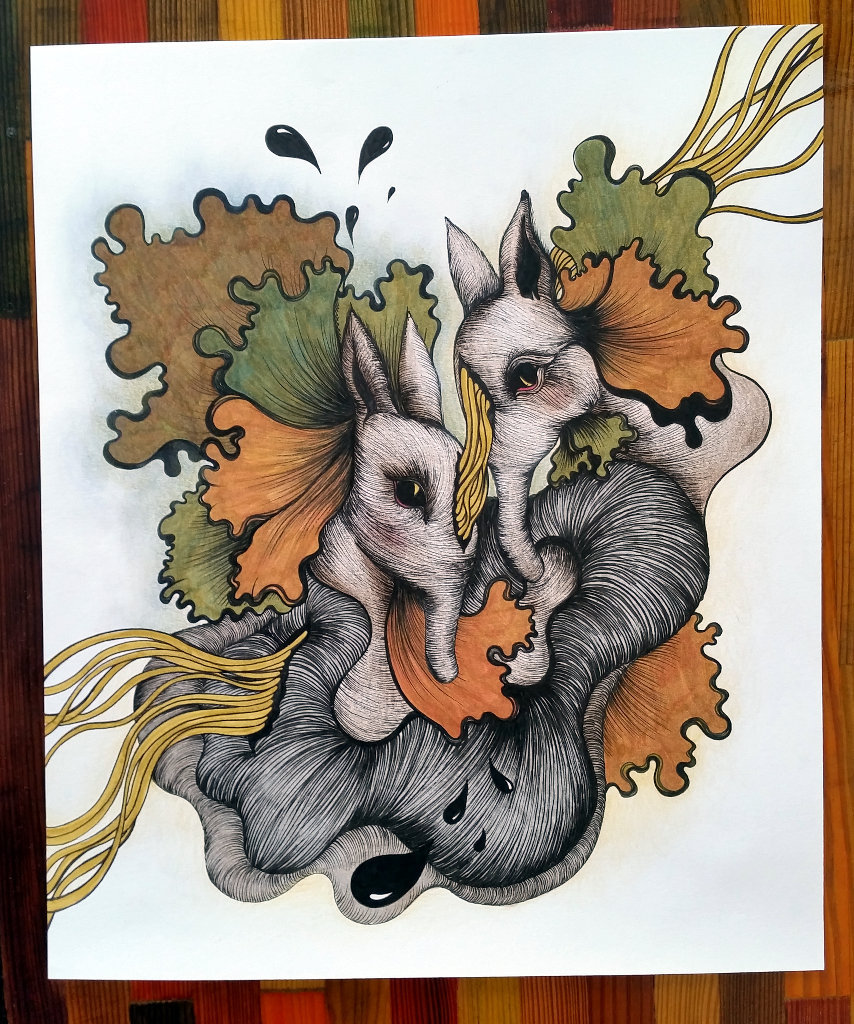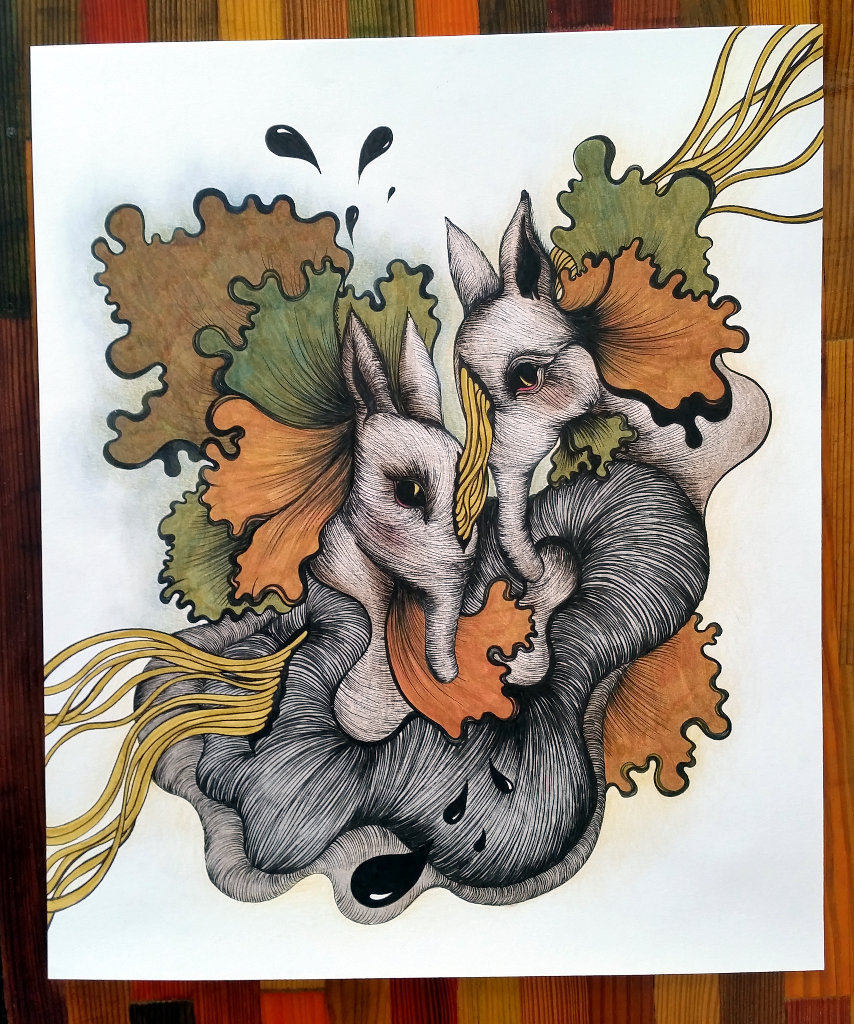 What are you working with at this time?
At this time I am working on an upcoming group exhibition, which will take time and place in the end of June in Berlin's 48 Kunstfestival Neukölln. It is an Art Festival which is happening 48 hours continuously. So what I am doing now, mainly, is creating characters which are mentally stuck in a world of different kind of mental disorders, so they are basically trapped in their own imaginative world, haunted by various phobias, but also fantasies and desires. I created a character called – Henrik H. Herceg the Haunted, which is one of my favorite, because he is based on an interesting person, I met, not so long time ago, who is somehow a reflection and impression of that peculiar person. Henrik was a melancholic noble man who came from an aristocratic family, where they all hated each other. He was unacceptable (with his different kind of intelligence), by his family, so he went to explore the world outside of the noble dynasty of the Haunted family, but on his way he had bad luck and in the end he is beheaded because he runs away with the daughter of a peasant he met on his way to the great big wide world. So now, only, his head is wandering around the lonely landscape, seeking for answers he did not find as a living creature.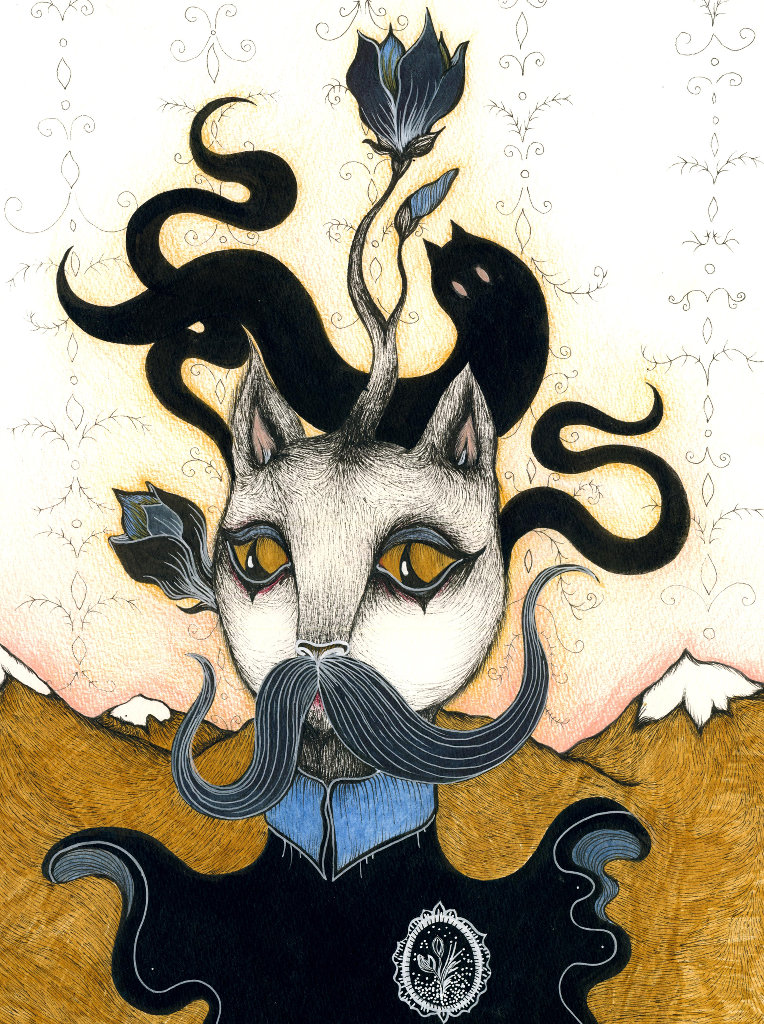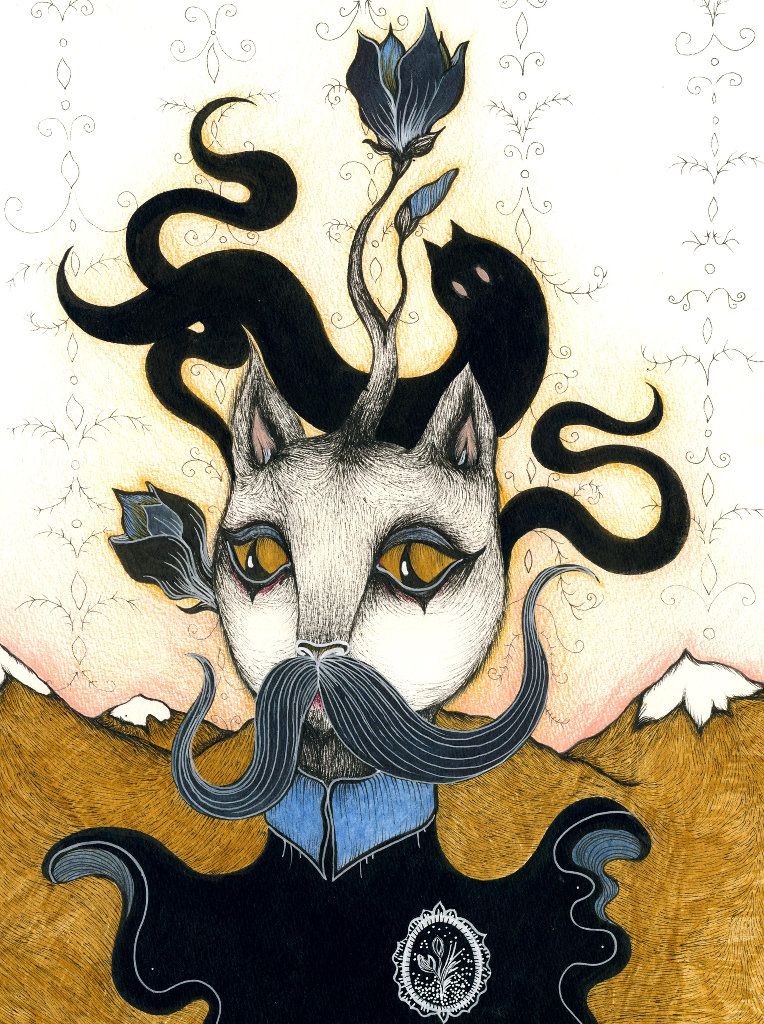 In your work, what makes you feel complete?
Just the process of making is a satisfactory. The challenge of thinking about the subject and its nature, the challenge of thinking about the possibilities where the development of an idea can end, the challenge of putting the right element on the right position of the format…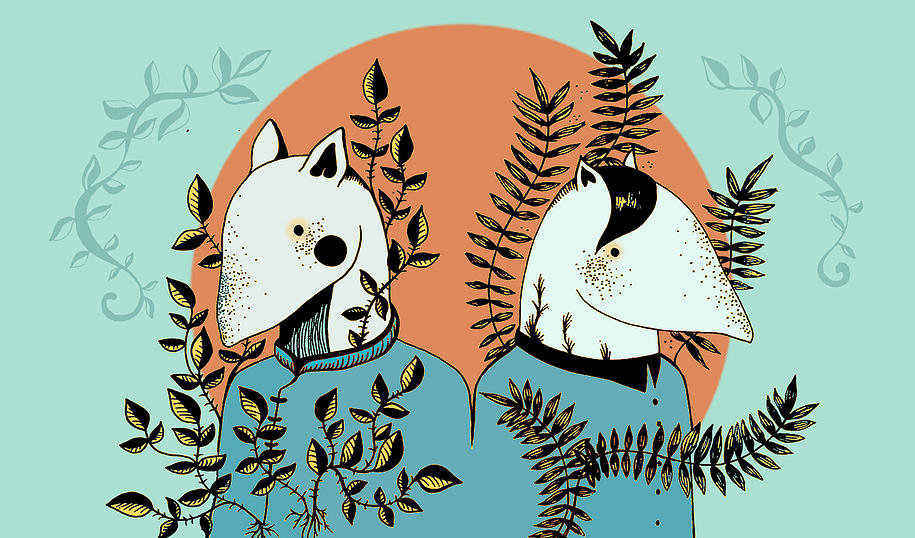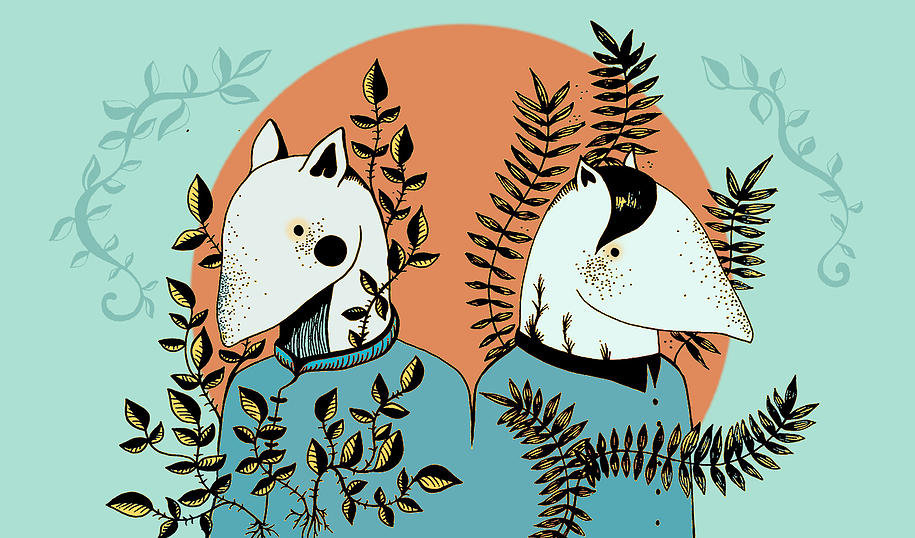 How did you start off with the book 'Mr. Peculiar' and how was the teamwork with the author?
It was simply a reaction and a necessity to express my dissatisfaction with children's books I have seen too many times in shopping malls, which contained perhaps inappropriate, sometimes a lack of educational point, stories, packed in visually, low quality looking images covered with glitter. I was seeking for a writer on the internet and I found a talented, young, british writer, named Tamara Forge, who fit my criteria perfectly. Before the story was written, I presented her my character who already existed. I felt, a story, written just for him, especially, would make him even more alive. She wrote a darker, educational story in rhymes, based on this dreamy character with various phobias, who is not perfect anatomically nor mentally. We were complementing each other – I gave her the character, she gave me the story – so that is how the illustrations came to live, it was a constant dialog from the starting point, between the image and the word.
Tam was really great. I felt privileged and really grateful, I could collaborate with a such professional.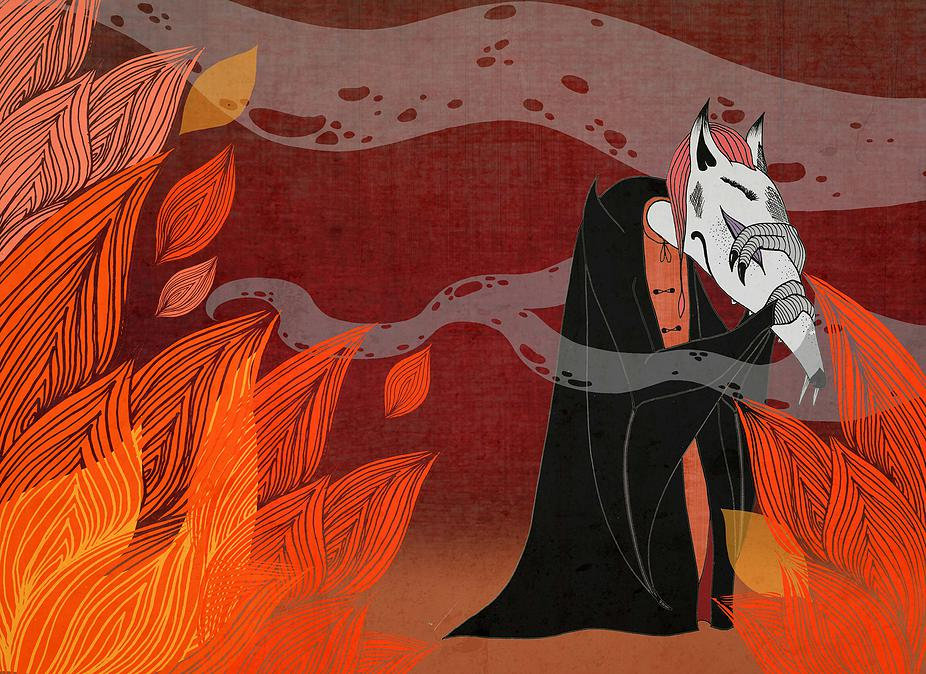 How do you create an unique stylistic environment for each story or say illustration project? The "worlds" the illustrations live in are very distinct and different. Is this the way you work? Sort of like exploring one world at a time?
As an artist or an illustrator you are influenced and inspired by so many things around you so it is kind of a long path to create a style which will represent you – especially if you are a young artist, you just want to experiment and try different kind of technic or approach. To get there, you have to go through, sometimes, unpleasant stages of constantly changing and trying new types of approaches and concepts, which can be frustrating but also a pleasure.
I guess my answer to your question would be, that, in every serie I made I was influenced by different artists and I was also in different state of mind, but it is one world which is a fusion of various information coming from different perspectives and it is up to you, as a creator, how you will reinterpret and transfer them into a coherent visual information.
Thank you!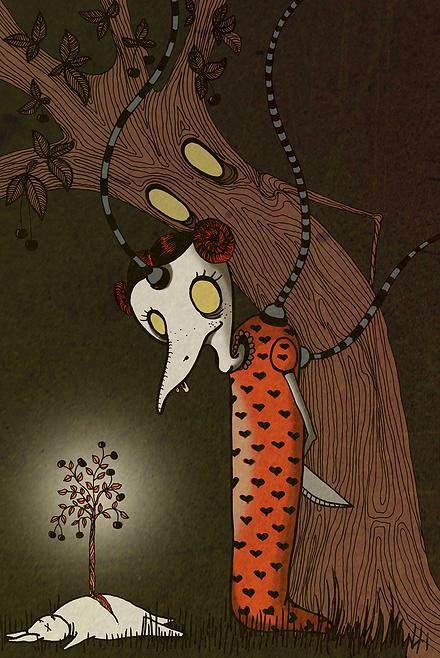 Allt För Musik
Anita Šarkezi
Books
Interview
Tamara Forge
Visual Art